TED LOO BELIEVES YOU CAN DO IT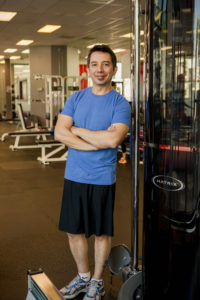 If you ask Ted Loo, anyone is capable of anything. He is a natural born motivator who believes that a customized personal training program can change lives.
That's why, in 2000, he left his career in computer animation and followed his passion for fitness. He launched Ted Loo Fitness in Vancouver in 2002, and with hundreds of success stories under his belt, he hasn't looked back.
Ted prides himself on providing customized, non-intimidating personal training experiences. While most trainers count and watch as you do the same routine over and over, Ted actually plans and oversees every client's customized program. He helps push you a bit further every time. He celebrates milestones, and provides advice for life and fitness outside of the gym.
Fitness results matter to Ted as much as they do to you. He believes that no matter your weight, health concerns, or commitments, you can achieve your goals. And he and his team of personal trainers in Vancouver can help you get there.
Contact Ted and his personal trainers today for a FREE Workout.